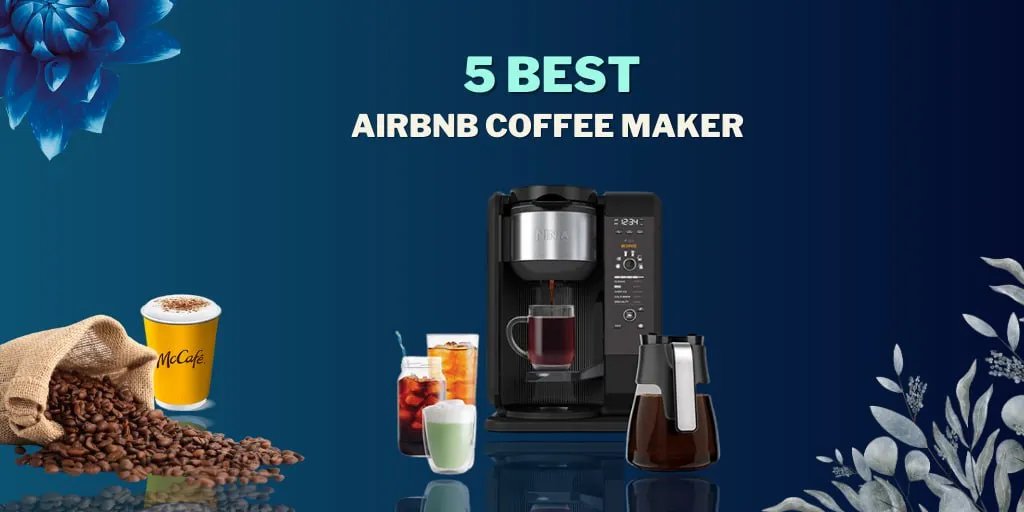 A perfect cup of coffee can be the motivation for a day. Not only the mind but the body gets energy as well. As an Airbnb host, it's a very good idea to keep Coffee makers for the guests. If a guest can start his day with a fresh cup of coffee, they will remember your service, and he can be your repeat guest. Yes, serving a fresh cup of coffee can be the turning point of your business. It will help you to stand apart from the competition. For business purposes, you need to select coffee makers with more features, lightweight, portable, easily cleanable, and long-lasting. Today we are going to give you a list and specifications of the best coffee maker for Airbnb. 
Coffee is inevitable nowadays. Most coffee lovers feel like everything stops without having a cup of coffee. Some of them can't start work without a fresh cup of coffee. They take coffee with a certain break all day long. Even some of them have their coffee before going to bed. Though it's strange to listen to, it's true. Let's take a look at the top 3 best coffee makers for Airbnb.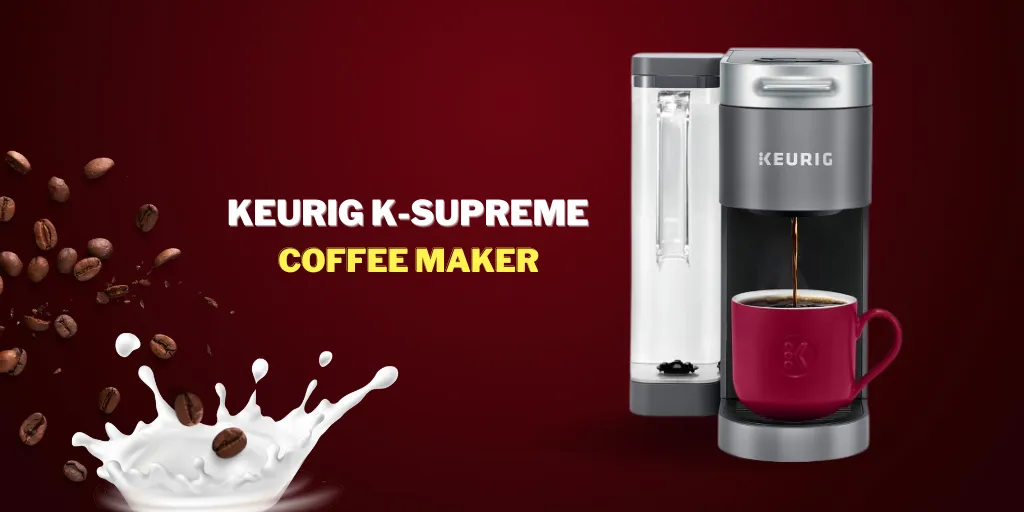 Keurig is a famous brand. Undoubtedly they provide the best coffee makers of this time. Keurig k- Supreme is a reliable product for its usability, technology, and durability. 
It is really convenient with different brew sizes ( 6 oz, 8 oz, 10 oz, 12 oz). A big removable water reservoir of 66 oz can make coffee making easy and save time. This big tank is also can be changed in two positions (back or side)
For making life easier, there is a display where you will get a Button control panel with buttons for each brew size, Strong, and Over Ice + LCD indicator lights for Add Water and Descale. 
Unfortunately, there is no temperature control, but you can control the strength. There is also the iced setting.
It can brew coffee superfast in minutes. Back-to-back coffee can be made immediately—no need to reheat it again and wait.
Keurig k- Supreme is travel mug compatible. You can use up to 7″ tall travel mugs. 
The company recommends using the k-cup for one time, But you can use 
MY K-CUP UNIVERSAL REUSABLE COFFEE FILTER. 
Worry about maintenance! After every 250 brews, it will remind you of maintenance.
Product :

K-Supreme

Brew Sizes :

6 oz, 8 oz, 10 oz, 12 oz

Water Reservoir :

66 oz removable, dual-position tank (back or

side)
Display :

Button control panel with buttons for each

brew size, 
Temp Control :

No

Strength Control :

Yes

Iced Setting :

Yes

Dimensions :

6.4″W x 15.1″D x 12.2″H (tank on back) or

7.9 "W x 12.0 "D x 12.2" H (tank on side)
Weight :

8.1 lbs

Power :

1520W

Other Features :

Auto-On (no Auto-Off), MultiStream

Technology.
Common Queries:
1. Can K-Cup pods be reused?
K- Cup pods can be reused, but reuse may result in an overflow.
2. Can I use the My K-Cup Universal Reusable Coffee Filter with the Keurig K-Supreme Plus Single Serve coffee maker?
Yes, it's possible to use K-Cup Universal Reusable Coffee Filter. Please be sure to buy the recent one with the gray top compatible with multi-stream brewing technology.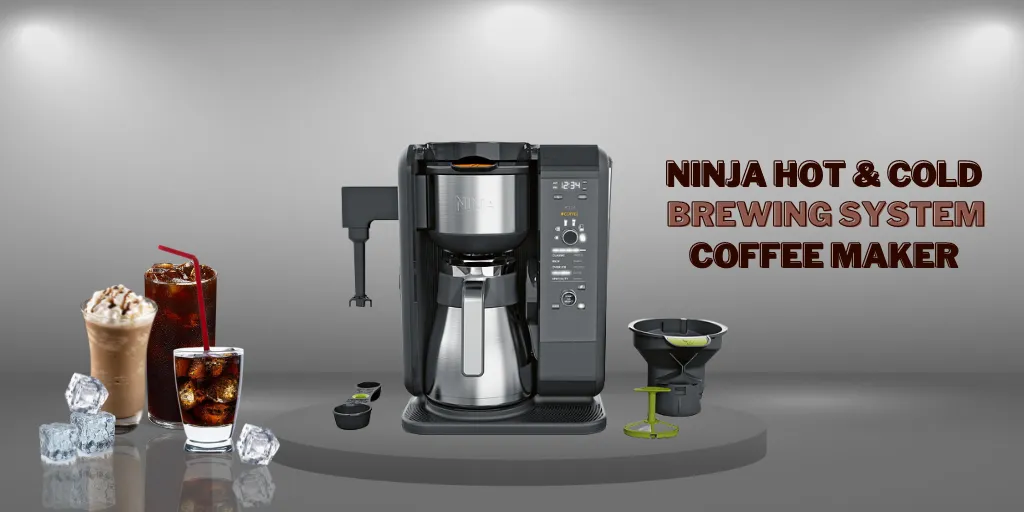 Ninja hot & cold brewing system coffee maker is flexible and customizable, which is perfect for Airbnb. Besides, it has some unique attributes that make it stand apart. You can control the brewing process. Multiple brewing sizes, a pod-free single cup, a travel mug, and all the way up to a full carafe. You can enjoy a bold, flavorful cup of hot coffee or tea with a hot brewing system. You can even brew over ice to prepare refreshing and full-flavored iced beverages. The five brewing options you will get are:
The classic brew:

For getting the traditional flavor 
The machine is also designed with a unique tea brew basket so that users can brew their favorite style of tea, whether they use a tea bag or loose leaf. They need not be confined to one choice. 
The rich brew:

Guests want stronger coffee but not bitter. You can serve them through this Ninja hot & cold brewing system.

Ice brew:

No matter if your guests prefer iced coffee. You can easily serve them Ice brew with this reliable multi-programming coffee machine.

Cold brew:

This coffee maker can provide you with cold coffee but don't desire to get it much perfect. It only can manage the part. I think you will never get an objection.

Specialty brew:

This option is a special ninja signature setting that concentrates on bled for mixing like lattes or cappuccinos.
You can easily give this machine command with its electronic selection screen. On the right side, you will find the control panel.
If it happens that you have some works to do and it will take time, you can keep your coffee warm, whether full or half carafe, through the warming plate. The default plate setting provides 2 hours of warming time, but you can set it for up to 4 hours. Even the temperature can be set high or low. There is also a safety feature to understand the temperature of the warming plate; please follow if you want to touch it.
A built-in milk frother is also integrated with the option of keeping it cold or warm. So you have the option to prepare cold froth, which is perfect for iced drinks. The brewer and the frother can be used separately but at the same time. 
A measuring scoop helps to make your coffee or tea taste perfect as well.
You can schedule your coffee 24 hours in advance. It will start brewing on time, and you will get your coffee prepared. A built-in spoon is added to it. It is not so wider and so doesn't take up much space in the kitchen. For the guest, it can be a great option for refreshment. Auto shut-off makes life easy. A permanent reusable filter, removable reservoir, an indicator to think for you when cleaning is needed, water measured capacity of 52 oz, a tea maker filter basket, built-in milk frother, warming plate to keep your coffee warm for long time, and a cone- type filter, all these options make the ninja coffee maker best among the bests. 
For hosting these, this is the right kind of coffee maker, which has a great impact on business and everyday life.
Brew Sizes :

6 brew sizes from 4.8-50 oz

Water Reservoir :

50 oz

Coffee Type :

Ground coffee only no pods/capsules

Milk Frother :

Integrated frothing arm (doesn't heat coffee

up)
Carafe :

Either glass or thermal, depending on model

External Material :

Plastic

Dimensions :

10.0″W x 11.8″D x 15.0″H

Weight :

11.7 lbs

Watts :

1500W

Other Features :

Auto-IQ, 10-minute Cold Brew mode.
Common Queries:
Does this machine make espresso?
Ninja hot and cold brew system does not have the option of making espresso, but the Specialty brew setting can be an option to get delicious coffeehouse-style drinks.
Does this machine accept Kcups?
No, it is a machine of drip brewing system for ground coffee.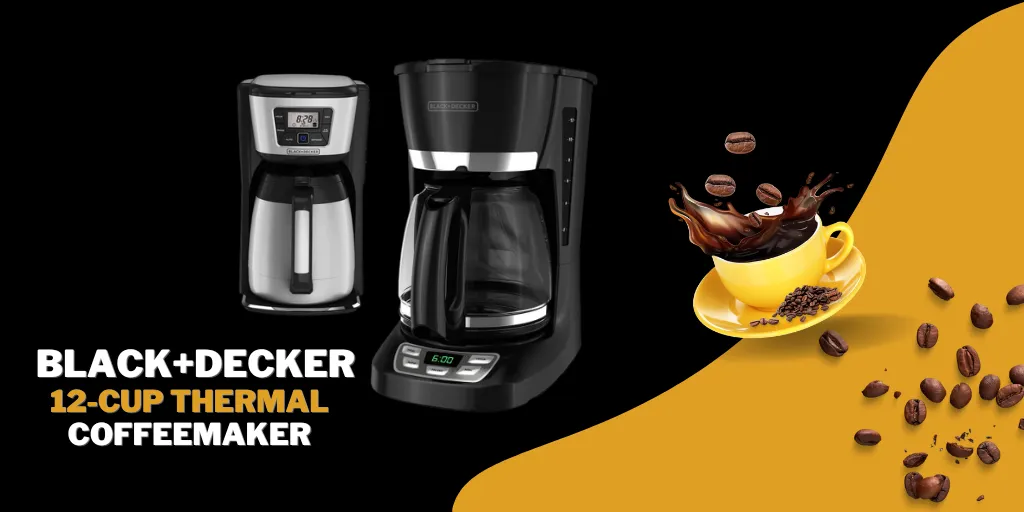 Black+Decker CM2035B 12-Cup Thermal Coffeemaker is the slim and low-cost best product in the market. The thermal is made of stainless steel, so you can get your coffee warm and drinkable for more hours. 
The LCD display helps to make life easy. The easy digital control has the option to choose the strength of your brew like regular, strong, and bold. There is also the option of a fresh brew timer that shows how much time has passed after brewing the coffee, up to 120 minutes.
It does no matter how screwed you are after getting up from bed, you can easily operate the machine as they are large and the directions are clearly marked.
The stainless steel 12-cup thermal carafe keeps the coffee warm and drinkable for hours. The design given to it has a larger mouth to clean easily.
The design is specially made to increase usability, so they added a sneak-a-cup feature to avoid the flow of coffee so you can pour your first before the brew is finished without messing.
For hosting the guests, you may remain busy with other work commanding the coffee maker. There is a 24-hour programmable auto-brew option. After a certain period of time, as you commanded, it will shut off. It's fully reliable and provides safety.
Whether for business purpose or home use, everyone wants to have a product that wastes less and produce maximum. This BLACK+DECKER 12-Cup Thermal Coffeemaker is a product of the such kind. The even stream showerhead supply water evenly over the packed coffee, for which it can extract the maximum flavor of the coffee with less wastage.
This is the lowest cost product with all convenience and best performance. If you want to know the latest price, user review, and rating, just click on the button given below the image.
Specifications
Auto-off

: Yes

Brew strength selector

: Yes

Brewing feature

: Yes

Capacity

: 12 cups

Color

: Black

Cord storage

: Yes

Digital

: Yes

Dishwasher safe carafe

: Yes

Freshness indicator

: Yes

Number of cups

: 12 Cups

Programmable

: Yes

Ready indicator light

: Yes

Small brew option

: Yes

Sneak-a-cup technology

: Yes

Warranty

: 2-year limited

Water-level indicator

: Yes
Does this coffeemaker beep when the coffee is done brewing?
There is a blue light that turns off after brewing. It doesn't have the option of beeping.
Is this 12 volts or 120?
This thermal coffee maker operates at 900 watts, 120 volts, and 7.5 amps.
For more Product reviews:
French Press Coffee Maker Review
Brand: AdirChef
Color: Black
Capacity:15 Ounces
Special Feature: Permanent filter
Best Espresso and Cold Brew Coffee Maker
Brand : BELLA
Material: Plastic
Special Feature: Manual
Color: Black and Stainless Steel
Capacity: 1 Cubic Centimeter