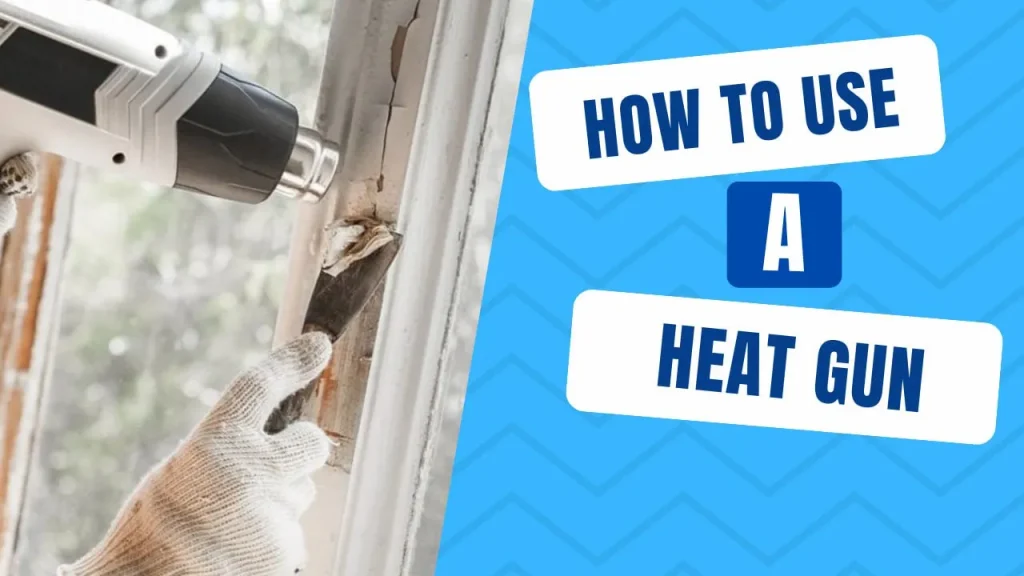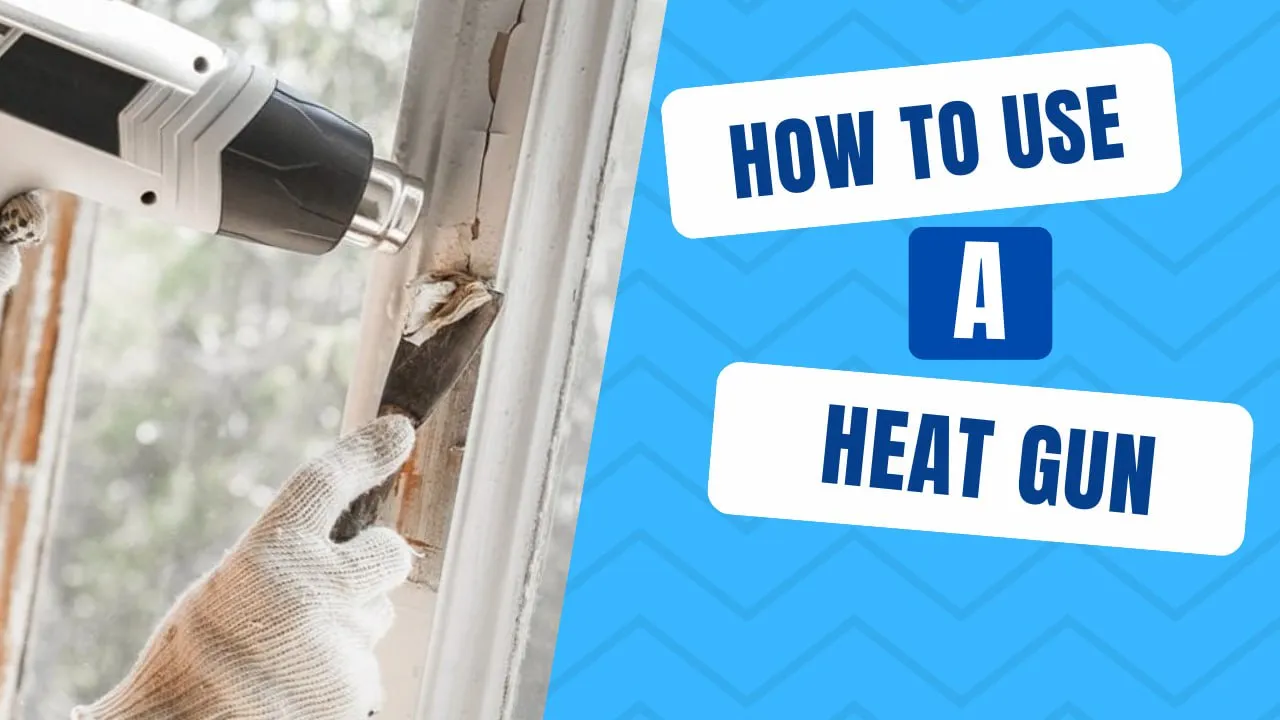 Heat gun sometimes looks like a gun. Though it is not as dangerous as a gun, it should be used with a perfect knowledge of this tool and the tools used with it. Even like a hair dryer, it blows hot air. But, a heat gun  has versatile uses. Otherwise something unexpected can be occured any time. At the same time your valuable time will be wasted as you are not accustomed to a heat gun. It is not so difficult or annoying to work with this versatile tool but you must know the best way to use a heat gun. Before buying a heat gun you need to know how and for what purposes you can use it.
Use of a heat gun:
Sometimes it so happens that  you bought a heat gun for a single purpose but you have a lot of work which can be done with it and you are ignorant of the multi-purpose use of a heat gun. Ultimately it is kept idly hanging on somewhere as a useless thing. We will help you giving all the information on "how to use a heat gun for different purposes." After scrolling this informative article you will know :
How to use a heat gun perfectly.

Various uses of heat gun .

Safety measures.
First of all you must know about the working tools. The inevitable instruments you need are :
A perfect heat gun.

Different types of Nozzles.

Goggles for eye safety.

A respirator mask.

Chemical resistant gloves.

Scrapers.

Sanding sponge.

Painting suit.
1. How to use a heat gun:
Using a heat gun is not a difficult task. Only you need to do: Buy a best quality Heat gun. As a beginner, heavy duty, high performance heat guns are not suitable for you. We recommend you to buy a medium one. You will know more about the different quality  best heat gun by clicking : best heat guns.
You may buy or rent a heat gun,whatever you do check the heat gun first if there is any fault or not. Faulty machines should be avoided. Don't think twice to avoid a faulty machine. You should read the manual properly as different machines have different functionality. Once you understand the manual, check the nozzles whether they are ready to flow the hot air perfectly or not .
You may need to clean it .
Of course use safety goggles to save your eye from heat or any kind of chemicals accidently emitted from the workplace. It also helps to protect your eyes from small particles in the environment. Always use a respirator mask to avoid inhaling chemicals emitted from the work environment with your breath. Chemical resistant gloves will give you extra confidence in your work and it will protect your hand from burning. Usually heat guns produce heavy heat. A single touch can burn your hand. You should not be indifferent in this regard.
Different size of heat gun:
Try to be smart when using a machine like a heat gun. There are different size scrapers in the market for different purposes. Suppose you need to work in a narrow space where a thin scraper is suitable to use. If  you need to cover a wider place than use the wider one. Heat guns are used to detach the paint and Scrapers are  used to clean the surface ideally( when you remove paint ). Sanding sponge is not suitable for every purpose removing any paint or sticker. It helps to clean the dot size spots remaining after scraping. You must put on a sleeved Painting suit.it is not essential to buy a new one rather you can use your old cloth.
When you are ready and have all the equipment to dive to work you must keep the environment free from any kind of flammable materials. Keep a fire extinguisher in your workplace and keep the room ventilated so that air can pass. For more safety there should be an exit path.
Now, you are ready to work with your tool.
Turn on the switch and let it be warm for a few seconds. There are different options of temperature. We recommend you to select the medium temperature as you are a beginner. it will not be a good idea to burn your finger as you are not accustomed to it. Take it easy, very soon you will be an expert on this. After switching on, wait for a few minutes to warm the gun. Hold the heat gun 3 to 4 inch away from the surface. Otherwise the surface can be damaged and the nozzle will not flow the hot air ideally. After that, hold the heat gun on the surface. You should keep in mind that you have to hold the airflow in one place for not more than two seconds.If it doesn't work then do the same process again. It may take several times as you are not an expert. 
The next step depends on which purposes you are using the heat gun. We have described below:
2. Various uses of a heat  gun:
To remove Paint:


After the procedure given above you will see  bubbles or the paint is detaching, you have to use scrappers. Scrappers will help you remove the paint , sticker or any kind of label. Actually heat guns help produce heavy heat to detach and scrapper helps to clean it ideally. Yet you will see some spots and now it comes the final task with the using of sanding sponges. You have to rub the sponge on the surface to remove the paint spot or dot.
To bend the PVC pipe: 
To bend a PVC pipe you have to hold the heat gum three to five inches away from the pipe and slowly rotate it so that different sides of the pipe can get the same heat for bending. Do the same thing again until it becomes soft as your requirement. Please don't hold the airflow to the same surface for a long time it may burn. You will see the pipe sagging under the heat if it happens all around the pipe then it is ready to bend and now give it a shape as your convenience.
To remove stickers and labels:

Usually we see stickers or labels on different products we use in our daily life. Sometimes we put stickers on things and after a few days think the sticker is not appropriate for this place or it becomes old. We try our best to remove it but in vain. This difficult task can be done very easily with a heat gun . Just warm the gun and hold it to the stickers or label for a few seconds. The stickers become soft and now you can pull them out easily.
To defrost:


 Most of the time we are to keep our food items out of the refrigerator and wait for it's defrosting. It's really a waste of time and annoying as well. Even in the winter our frozen pipes make our life very difficult but we can get rid of these things very easily using a heat gun. hold the heat gun to the frozen food or on the pipe. You get it easier once you are used to it. But keep in mind you should use it in a moderate way otherwise the pipe can be damaged.
Shrink Wrapping: 


In our everyday life we wrap many things to keep them safe and secure. If it comes about shrink wrapping then it is obviously recommended to use a heat gun . You may wrap food, books ,gifts or fix up stock, a heat gun can perform all these things. You can also use a hair dryer but it is not as fast and convenient as a heat gun.
3. Safety Measures:
For your convenience we have pointed out some safety issues. Hope it will help you to remember all the points as you know safety should be the first priority.
Check the heat gun and its Nozzles.

You should not touch the nozzle.

To pass the air ventilation is a must.

Fire extinguisher and an exit route should be kept in your plan.

Don't keep any flammable things in your workplace.

Don't point it to any people or animals.

Keep this away from the children.

For a short break use a stand .

Before packing let it cool down.
Personal Opinion:
Using a heat gun for different purposes is not a difficult task at all. The main things you need are Courage, free time and a strong desire to learn something new. It can save your money and you will learn a new thing. I will say , try it following the procedures and safety measures I narrated above. I can assure you, it will please you and you will thank me later.
Conclusion:
I know it's hard to give any feedback as everyone remains busy with their work. Your feedback inspires us to write more informational articles. If  you have any query in this regard please leave a comment. We will be here for you. Thanks for reading the full article 🙂 🙂